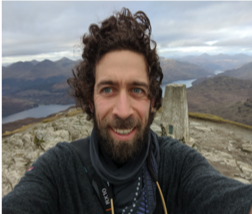 Fisher brings eclectic skills to his consulting work with a background in history, modern dance, community health improvement, learning & development, and higher education management. He is primarily interested in taking obscure ideas and making them seriously playful. He is intrigued by the potential for organizing and structuring interactions that invite people to contribute more of their imagination, creativity, an intelligence to the challenges-at-hand. Fisher appreciates being lovingly provoked, so bring your most skeptical-selves, your strangest hunches, or your most oblique ideas to the workshop.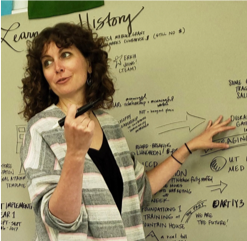 Anna brings an artistic sensibility to her practice with Liberating Structures (LS) and other participatory approaches that aim to affirm people's rights and personhood. She started out using LS in the mental health recovery movement, peer-based learning and support networks, and facilitating in complex policy, community, and clinical contexts. Since then has worked with LS in a diverse range of domains & settings. Anna has a Master of Science in Social Work from The University of Texas at Austin and a Bachelor of Arts in Social Anthropology from the University of California, Davis.
Kevin Haggerty specializes in prevention programs at the community, school and family level. He is the Director of the Social Development Research Group. Dr. Haggerty serves as the PI/ Project Director for the Northwest PTTC.  He is a Professor at the UW school of Social Work. For more than 30 years, he has focused on developing innovative ways to organize the scientific knowledge base for prevention so that parents, communities and schools can better identify, assess and prioritize customized approaches that meet their needs.  He has an extensive research background in the intersection of biological and environmental risks for drug abuse in emerging adults and is an expert on substance abuse and delinquency prevention. Additionally, Dr. Haggerty is an investigator of the Community Youth Development Study, which tests the effectiveness of the Communities That Care program.
Brittany Rhoades Cooper, PhD
Brittany Cooper is Associate Professor and the Director of the Prevention Science PhD program at Washington State University, which provides training to the next generation of prevention scientists in how to apply basic research on individuals, families, and their communities to the development, evaluation, and dissemination of evidence-based programs promoting health and well-being. Dr. Cooper serves as a Project Co-Director for the Northwest PTTC.  Brittany has collaborated with federal, state, and local stakeholders in Washington State and Pennsylvania on how best to support the high quality implementation and sustainability of evidence-based substance use prevention programs in real-world settings for the past nine years. She has published extensively on research identifying factors necessary for the successful scale-up, implementation, and sustainability of preventive interventions in real-world contexts, and risk and protective factors for youth substance use and misuse.
Louise Parker's research focuses on the delivery of evidence-based prevention programs in real-world settings. She serves as a Special Projects Advisor on the Northwest PTTC.   Dr. Parker is particularly interested in the cultural adaptation of interventions to increase reach and relevance for diverse communities. Her work in the prevention field is broad, with her most recent research activities focusing on childhood obesity prevention through the creation and implementation of family interventions in community settings. This research has advanced the prevention field's understanding of effective research-practitioner and interdisciplinary partnerships Dr. Parker is also the developer and trainer for a cultural competency program called Navigating Difference, and has used this expertise to inform the successful recruitment and retention of culturally diverse families in community-based prevention programs.