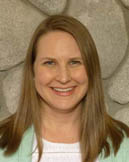 Alyssa O'Hair, MPH, MA, CPS Alyssa O'Hair, MPH, MA, CPS is a Senior Manager, Workforce Development at the Center for the Application of Substance Abuse Technologies at the University of Nevada, Reno (UNR). With over 10 years of experience providing and supervising training and technical assistance (TTA), she currently serves as the project director for the SAMHSA-funded Pacific Southwest Prevention Technology Transfer Center, which aims to build the skills of the substance abuse prevention workforce in HHS Region 9.  Alyssa has extensive subject matter knowledge in training design and facilitation; technical assistance and consultation; the Strategic Prevention Framework; public health approach to prevention; conducting needs assessments; data-driven decision-making; risk and protective factors; evidence-based interventions; and evaluation design and methodology.
Prior to joining CASAT, she worked at UNR's Center for Program Evaluation for almost 10 years, conducting evaluations for school districts, non-profit organizations, community coalitions, statewide initiatives, and regional health education initiatives. Alyssa has evaluated a variety of substance abuse prevention, youth development, education, and health education initiatives across the western region. She is experienced in evaluation tool development, quantitative and qualitative data collection and analysis, meeting facilitation, and community-based participatory research.
Alyssa earned a Master of Arts degree in social psychology and a Master of Public Health degree in epidemiology from UNR. She received her B.A. in psychology from Nebraska Wesleyan University and is a Certified Prevention Specialist.