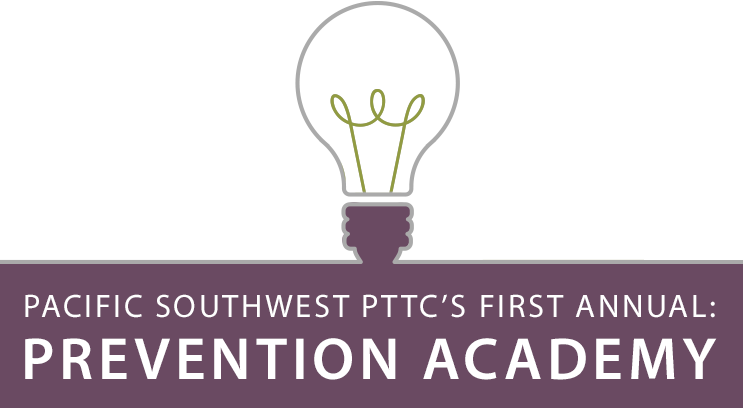 Unfortunately, due to the COVID-19 crisis, we are cancelling our Prevention Academy.  We hope to be able to offer this event at a later date but are not currently in a position to formally reschedule. Thank you for your understanding.
April 22-24, 2020 | Los Angeles, CA
The Pacific Southwest PTTC is pleased to announce our first annual Prevention Academy!  This Academy will provide prevention professionals with in-person, skill-based workforce development training through participating in one of two tracks.  Workshop topics were identified based on a regional needs assessment survey conducted by the Pacific Southwest PTTC in 2019.
Who should attend?
Anyone in HHS Region 9 working to prevent substance misuse and delay the initial onset of substance use.  HHS Region 9 includes: American Samoa, Arizona, California, Commonwealth of the Northern Mariana Islands, Federated States of Micronesia, Guam, Hawaii, Nevada, Republic of the Marshall Islands, and the Republic of Palau.
Where is the Academy?
The Westin Los Angeles Airport (LAX) (Read More)
Will Participants Receive Continuing Education Hours?
Yes!  Participants completing their selected track in the Prevention Academy will receive a certificate of completion for 18 hours of continuing education that can be submitted to your state or jurisdiction IC&RC-affiliated certification board to apply towards IC&RC prevention certification or recertification. Certification board requirements vary, so be sure to confirm with your board that it meets their specific certification requirements.  No partial credit will be provided.
WHAT SHOULD PARTICIPANTS EXPECT?
In addition to opening and closing keynote addresses, participants will join one of two tracks over the three-day event:
Track 1: Prevention Fundamentals.
This track will include a series of beginner-level workshops focused on sustaining prevention programs, systems, and positive outcomes; selecting evidence-based interventions that align with community needs, resources, and culture, and environmental change strategies.
Intended audience: Prevention practitioners new to preventing substance misuse, or who are just looking for some great information to advance their ability to select and sustain the right set of interventions for their community!
Level: Entry or Intermediate
Track 2: Leadership Development.
This intermediate-level track will build participant's skills to
1) improve their own leadership skills and
2) build leadership skills in their staff and volunteers.
Intended audience: Prevention practitioners working in prevention three or more years and have leadership, management, and/or supervisory roles.
Level: Intermediate
The Academy will close out Friday afternoon with a closing keynote from Dr. Rodney Wambeam that serves as a humor-filled call to action.
More details for each track will be coming soon.